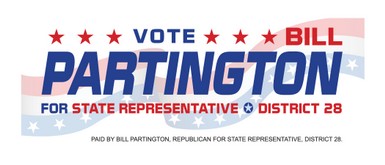 About Bill Partington for State Represenative
Mayor Partington was born at Halifax Hospital and raised in Ormond Beach. He attended Tomoka Elementary, Ormond Beach Junior High,and graduated from Mainland High School.

He earned an A.A. degree from Daytona Beach Community College, a B.A. degree in communications from the University of Central Florida, and his Juris Doctor from the Loyola School of Law in New Orleans.
Mayor Partington currently serves as an Assistant Public Defender and Division Chief for the Felony Trial Division for Florida's Seventh Judicial Circuit. Previously, he ran a solo private law practice in Ormond Beach from 2001-2006 and he served as an assistant public defender (1996) and also as an assistant state attorney (1996-2001) for the Seventh Judicial Circuit, specializing in the prosecution of domestic violence and elderly exploitation cases. While at the State Attorney's Office, he received the Distinguished Special Achievement Award in recognition of outstanding performance of duty. He also completed courses on computer crimes, domestic violence and elderly exploitation at the National District Attorneys Association National Advocacy Center in Columbia, S.C.
Earlier in his career he served as a Florida Senate Page for the late State Sen. Ed Dunn and was also an intern for the late U.S. Congressman Bill Chappell, both in his district office in Daytona Beach and Washington, D.C.
Bill and his wife, Lori, just celebrated 30 years of marriage and have three beautiful and talented daughters. In his free time, he enjoys spending time with his Ormond Beach area family.
Mayor Partington is a graduate of the Florida League of Cities Institute for the Elected Municipal Official and the Advanced Institute for the Elected Municipal Official.

Mayor Partington was the 2015 President of the Volusia League of Cities and currently serves on the Executive Board. He is also the recipient of the 2015, 2016, 2017, 2018, 2019 & 2020 "Home Rule Hero Award" from the Florida League of Cities for his legislative advocacy on behalf of Ormond Beach. Mayor Partington also serves on the Florida League of Cities Board of Directors and was recently appointed to the National League of Cities Human Development Federal Advocacy Committee which shapes policy positions on behalf of Ormond Beach and advocates before Congress.
Mayor Partington is a member of The Historic Ormond Yacht Club, and Ormond Beach Y.M.C.A.. He is also an Elder in the Christ Presbyterian Church where he has attended for over 47 years.